Brunch is the time to R-E-L-A-X and unwind.  As a cook/hostess, it also provides you a unique opportunity to wow your friends.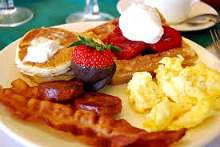 You get to TRY out something new – i.e., a recipe that is unconventional which may not fit with breakfast, lunch or dinner (the usual meal pattern).
I am going to suggest #6 and #13 to you "coconut lovers" .  Many of the other recipes are outstanding & healthy too (some of them) – such as the one that uses bananas & crm cheese (plus melted coconut oil) to create a sumptuous Banana Bread !
I personally like #6 as it uses 2 of my fav ingredients – avocado and dark chocolate.   Recipe for  Dark Chocolate Avocado Mousse with Coconut Caramelized Bananas.
I visited the blog, & this recipe uses canned coconut milk, coconut rum, coconut oil, brown sugar, 4 ripe bananas, toasted coconut and vanilla for the "carmelized banana" portion of its recipe.
It's a work of art really – and it tastes amazing!
Whether you prefer savory or sweet, there's a recipe in this batch you'll like. And remember to "share" these with yr pals on Facebook, Twitter, or Pinterest.
(via Imgur.)
Just looking at the pictures, and I'm hungry!  Good luck with these recipes – clearly, you s-a-v-v-y  cooks can adapt these & make them into something truly special !
THANKS  for visiting CoconutBaking.com !
Copyright  2015