Brunch is the time to R-E-L-A-X and unwind.  As a cook/hostess, it also provides you a unique opportunity to wow your friends.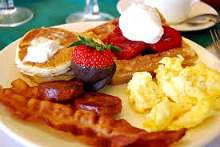 You get to TRY out something new – i.e., a recipe that is unconventional which may not fit with breakfast, lunch or dinner (the usual meal pattern).
I am going to suggest #6 and #13 to you "coconut lovers" .  Many of the other recipes are outstanding & healthy too (some of them) – such as the one that uses bananas & crm cheese (plus melted coconut oil) to create a sumptuous Banana Bread !
Continue reading 20 Recipes for Brunch: Make 'em Your Own ! →