Happy Summer!  Today I offer some really quick & easy recipes – and since this is a Coconut Blog, I want to "alert you" to #11 and #18.
For a lot of these recipes, you use a Food Processor.   Such as with Number 6,  "No Bake Energy Bars" — in this case, you get out your handy-dandy food processor & BLEND the dates.
Then you just ADD the oats.  Easy peasy !
   
#11 is "Coconut Cookie Dough Balls" and there's also a quick recipe for Macaroon Cookies (#18); it's a simple recipe, it's just 2 ingredients: condensed milk + coconut.
Now, #11 (coconut cookies) requires coconut butter; it uses pitted dates for the flavor.  That's how basic it is – just 2 ingredients !!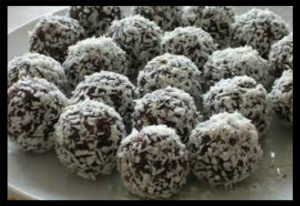 All of these amazing looking goodies share one thing in common: they all only use two ingredients. That's right. TWO ingredients. Don't believe me? Take a look.
1. Mini Kiss Pies: pie crust + Hershey's Kisses. Thaw the pie crust, then slice into circles about an inch around the Kisses. Fold the corners and bake for 20 minutes under 350 degree oven.
2. Creamy Garlic Broccoli: broccoli + hummus. Roast, steam or bake the broccoli how you like, then mix in garlic hummus.
3. Biscuits: self rising flour + milk. Mix together and bake for 20 minutes in a 450 degree oven.
4. Chocolate Truffles: cream cheese + chocolate. Whip the cream cheese, melt the chocolate. Form them together in a ball, let those freeze, then cover with more melted chocolate.
5. Soda Can Cupcakes: cake mix + soda. Make sure the soda is room temperature and then add it to the cake mix. Bake as instructed by the mix.
6. No Bake Energy Bars: dates + oats. Blend the dates in a food processor, then add the oats. Ready to serve!
7. Eggnog Muffins: eggnog + self-rising flour. Mix together and bake for about 13 minutes at 350 degrees.
8. Banana Flaxseed Crackers: bananas + flaxseed. Mash up the banana, then mix in the flaxseeds. Spread on greased cookie sheet and bake for 20 minutes in a 350 degree oven.
9. Flourless Nutella Cake: whipped eggs + Nutella. Whip eggs rapidly for 6 minutes, then mix with Nutella in a greased pan.
10. Vegan Froyo: soy yogurt + sugar. Pick any flavor you want, mix with sugar and freeze.
11. Coconut Cookie dough balls: pitted dates + coconut butter. Toss 'em in a food processor then roll 'em into balls.
12. Grilled Cheese Bites: sliced cheese + crescent rolls. Cut the cheese slices in half and roll them into the crescent dough. Bake for 13 minutes.
13. Easy Italian Chicken: Italian dressing + chicken cutlets. Marinate the chicken in the dressing and prepare as desired.
14. Strawberry Fudge: white chocolate chips + strawberry frosting. Melt the chips, then add the frosting and allow to cool.
15. White Chocolate Thin Mints: vanilla wafer + white mint chocolate chips. Melt the chips, then dip the wafers and allow to cool.
16. Pumpkin Muffins: pumpkin puree + cake mix. Mix together and bake in a 400 degree oven for 20 minutes.
17. Cheese Crisps: cheese nips + shredded cheddar cheese. Bake for 5 minutes in a 375 degree oven.
18. Macaroon Cookies: condensed milk + coconut. Combine the two until the mixture is sticky, then roll into balls and bake until browned on top.
19. Oatmeal Cookies: bananas + oats. Mush two old bananas and mix in the oats, then bake in a 350 degree oven for 15 minutes.
20. Cookies 'n Cream Oreo Bark: white chocolate + Oreos. Break the Oreos up into a bowl and poor the melted white chocolate over them, then chill to harden.
21. Palmiers: frozen puff pastry sheets + granulated sugar. Cover your surface with the granulated sugar, then put a heavier amount onto the pastry sheets. Fold and bake!
22. Peanut Butter Banana Ice Cream: peanut butter + banana. Slice frozen bananas and place in food processor with peanut butter until it reaches your desired consistency.
23. Pizza Dough: self rising flour + Greek yogurt. Mix together and form a ball, then knead the dough for 5-8 minutes and flatten.
24. Soda Pop Sorbet: soda + sweetened milk. Mix together, then freeze.
25. Maple Soufflé: eggs + maple syrup. Separate the yolks from the egg whites, then mix the yolks with the syrup. Beat the egg whites until there are soft peaks, then blend with the maple syrup mixture. Bake for 10 minutes in a 350 degree oven.
(via List25) Wow, you could have a whole dinner party of two ingredient items! Share with your culinary friends below.
Read more: http://viralnova.com/these-gourmet-foods-may-look-complex-but-they-have-a-very-cool-secret-13-is-impossible/
I really enjoyed the Maple souflee, when I made it.  All these treats are super-simple to make – clearly, and You know what you're getting — so therefore it's HEALTHIER than your average Trip to the local grocery !