Olive Oil: Learn the Benefits to Your Environment and You
Today I want to share an infographic espousing the BENEFITS of using virgin olive oil:
Personally, I especially like that it can help reduce the risk of malignant melanomas, and aids with both digestion (by slowing down digestion) and sun-damaged hair (or wind-damaged, for that matter).Plus.. did u know that
olive oil
can be used in some of your baked goods, and "directly" on your skin?  It may be used in your cat's food
too, to help lower the incidence of hairballs!
Olive Oil: More Benefits that Are Unique
By Jan Ashby     
Olive oil can be used to polish your furniture, & to "cure" squeaky doors too.  Plus it is useful in that it's "green" (so it's safe for the environment).
You can READ More uses of this wonderful product here .
10 Simple Skin Care Hacks: Caring for Your Skin using Olive Oil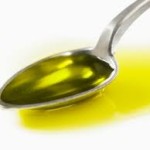 And if you have a SPECIFIC interest in Skin care, visit "10 Beauty Hacks to Improve Your Tone & Texture" –  You know , you can not only use it to improve your skin's appearance, but also to remove makeup!
It also helps reduce itchy scalp or dandruff, and olive oil can be employed to strengthen nails.
Copyright   Coconutbaking.com