Hi.  Jan Ashby here.  This post is "just for fun" – sort of an FYI type of post.  Some of these healthy snacks aren't half bad .. take, for instance, #6 — Banana Nut Toast.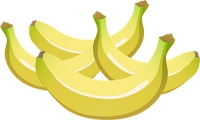 This consists of sprouted wheat bread, almond butter, peanut butter, honey, slices of banana, & a sprinkle of cinnamon..
Or #12 "Loaded Sweet Potato" – I love both these and yams, and the thing is it has a lot of Potassium & antioxidants.  Good for ya.
And then, how about #18 – this is the one thing in the group that actually uses coconut flour.  It's a giant cookie.  Take a PEEK  :